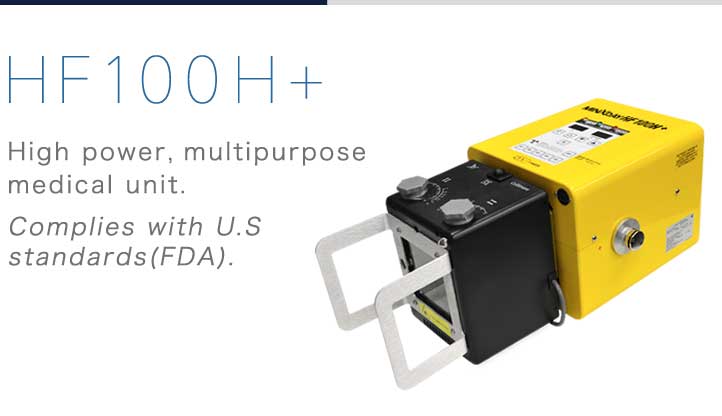 HF100H+
High power, multipurpose medical unitComplies with U.S standards (FDA).
The HF100H+ is compact and lightweight enabling easy transportation.It is capable of taking exposures of most body parts using maximum 100 kV and maximum 30mA high frequency technology. The unit has 5 memory stations for storing x-ray exposure techniques. It is compatible with all major DR digital systems. It is recommended for hospitals, mobile clinics, military field clinics and nursing homes.


Model

HF100H+ portable x-ray unit
Max.output power

2.0kW
Line voltage

AC, single phase, 115V or 230V, 50/60Hz
Focal spot

1.2
kV range

40kV-100kV (2kV step)
mA range

30mA@40-60kV, 25mA@62-80kV20mA@82-100kV
Timer

0.03-4.00sec
Memory storage

5 presets
Laser pointer

Dual laser
Size・Weight

L406×W241×H222mm(without skinguard) 20kg
Accessories

Power cord/Hand-held exposure switch and cord
Remarks

FDA approval(U.S.)
●This product is available through our US agents.
<!-stand-->

●Please contact us for details.