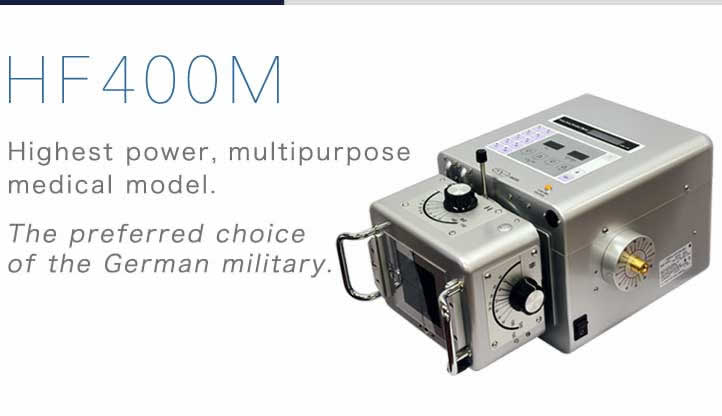 HF400M
Highest power, multipurpose medical model.Complies with EU standards. The preferred choice of the German military.
The HF400M is Mikasa's highest power model for medical use and is capable of the maximum 120 kV and maximum 100 mA. The focal spot size of only 1.2mm ensures high quality X-ray imaging. The unit has 10 memory stations for storing x-ray exposure techniques. The unit meets the specifications of the German military. It is recommended for hospitals, mobile clinics, military field clinics and nursing homes.

Model

HF400M portable x-ray unit
Max.output power

6.0kW
Line voltage

AC, single phase, 230V, 50/60Hz
Focal spot

1.2
kV range

40kV-120kV (2kV step)
mA range

100mA(0.01-0.1sec),70mA(0.11-2.0sec)@40-50kV 80mA(0.01-0.1sec),56mA(0.11-2.0sec)@52-60kV 70mA(0.01-0.1sec),49mA(0.11-2.0sec)@62-80kV 60mA(0.01-0.1sec),42mA(0.11-2.0sec)@82-100kV 50mA(0.01-0.1sec),35mA(0.11-2.0sec)@102-120kV
Timer

0.01-2.00sec
Memory storage

10 presets
Laser pointer

Dual laser
Size・Weight

L415×W320×H245mm(without skinguard) 22kg
Accessories

Power cord/Hand-held exposure switch and cord
CE-remarks

Component of CE-approved QUANT power series

●Please contact us for details.