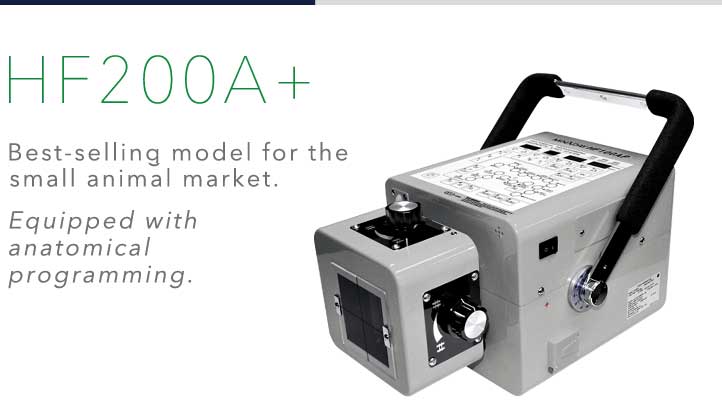 HF200A+
Best-selling model for the small animal market. Equipped with anatomical programming.
The HF200A+ is easy to operate with over 1200 anatomical programmed values for dogs, cats, birds and small animals. The program settings include; body part thickness, body part density, FFD range, pregnancy, and radiography with or without an X-ray grid. All settings can be adjusted manually. Programs can be adapted to all major types of film speed.


Model

HF200A+ portable x-ray unit
Max.output power

2.5kW
Line voltage

AC, single phase, 230V, 50/60Hz
Focal spot

1.2
kV range

30kV-100kV (2kV step)
mA range

40mA@30-60kV, 35mA@62-70kV 30mA@72-80kV, 25mA@82-100kV
Timer

0.01-2.00sec
Memory storage

Anatomical program
Laser pointer

Dual laser(Optional)
Size・Weight

L400×W290×H230mm 16.2kg
Accessories

Power cord/Hand-held exposure switch and cord

●Please contact us for details.
Please find the brochure list below (PDF)